If you are looking for the best headphones, the Beats Solo 3 and Studio 3 by Dre are among the best available options. Both these headphones have become tremendously popular for both focused and passive music listening experiences and provide strong competition when compared with each other. Unsurprisingly, most customers find it hard to decide which Beats Solo 3 vs Studio 3 is the best option for their individual listening preferences. Here is an exclusive comparison of Beats Solo 3 vs Studio 3 to help you decide the best one for your listening needs.
Comparison Table
| | | |
| --- | --- | --- |
| | | |
| | | |
| | 5 mins for 3 hours of playback | 10 mins for 3 hours of playback |
| Active Noise Cancellation | | |
| | | |
| | | |
| | | |
| | | |
| | | |
| | | |
| | | |
| | | |
| | | |
| | | |
Solo 3 vs Studio 3 – Build And Design
Starting with the build quality, both headphones are durable and robust for long-term use. Both Beats Solo 3 and Beats Studio 3 headphones come with a wireless closed-back design with an elegant matte plastic finish. Both feature sturdy headphones that won't get damaged by a few minor drops.
Also, they both have adjustable headbands and are foldable for easy transportation. Therefore, you don't need to carry an extra bag for your headphones. These headbands are flexible and sturdily reinforced with metal, and the ear cups are durably padded.
One of the significant differences between Studio3 vs Solo3 is the design. The Beats Solo 3 has an on-ear design with ear cups that rests against the ear, while the Studio 3 has an over-the-ear design that wraps around the ear. Both are ideal for any ear design, which is the first thing customers look for in headphones.
However, the built design comes with various implications. With Studio 3 featuring the over-the-ear headphones design, it performs better in terms of noise isolation. On the other hand, the Solo 3 has an on-the-ear headphones design; hence, there are better options for noise suppression and isolation.
Beats Solo vs Studio – Sound Quality
Sound quality is one of the major elements determining headphones' credibility. The good news is that Beats never compromise on sound quality. Solo 3 and Studio 3 provide pretty good quality sound. Both headphones' bass is booming, making them worthy of the Beats brand. The highs and mids are clear on both models. But despite both headphones having a good quality sound, the Studio 3 headphones are noticeably the better performer.
Studio 3 has incredible sound quality offering the perfect combination and balance for an amazing music-listening experience. Its accentuated forward mids, lows, and rich bass provides a great listening experience for classical and hip-hop music. This model offers the best sound balance and bass, even on high volumes.
Compared to Studio 3, the sound quality and balance are low in Beats Solo 3. The Bluetooth microphone also sounds crisper and clearer in Studio 3 than the Solo 3. While both headphones use spatial audio technology to provide immersive music playback, the Solo 3 has more bass, which makes the music messy and muddy.
Generally, Beats Studio 3 is superior to the Solo 3 headphones in terms of sound quality. Controls and mic performance. This model is clearer and louder than the Solo 3. Therefore, the Beats Studio3 wireless would be a better choice for you.
Beats Solo 3 Vs Studio 3 – Controls And Apps
The Beats Solo 3 and Studio 3 have invisible control buttons around the Beats logo. The logo acts as the pairing button. The headphones allow you to control play/pause, volume and skip tracks through the button on the left earcup.
To turn your headphone on/off, you just need to hold the button. Also, you can easily launch voice assistants like Google Assistant and Siri with a single touch. The only difference between the two headphones is that Studio 3 has extra control of the ANC feature.
Both the Solo 3 and Studio 3 headphones have dedicated apps through which you can control several functions. However, Studio 3 comes with a more advanced application that you can use to regulate the equalizer. The Solo 3 offers limited functionality.
Studio 3 Vs Solo 3 – Microphone
Both models have a built-in microphone that you can use to answer calls if paired with your phone, which is convenient.
But regarding microphone quality, the Solo 3 struggles to deliver a clear noise in a crowded area due to the lack of a noise cancellation feature. On the other hand, Studio 3 performs better regarding microphone quality thanks to the noise cancellation feature.
However, there are better options than both of these models, particularly for making important calls. Their integrated mics are good for phone calls in relatively quiet areas but are fairly poor in noisy places.
Pairing And Connectivity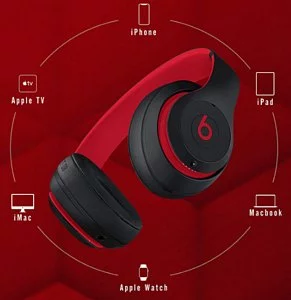 Both these models are integrated with Bluetooth technology for wireless connectivity. You can pair them with your device around 90 meters (300 ft), which is remarkable. Also, the Solo 3 and Studio 3 headphone models have Apple's W1 chip for enhanced Bluetooth performance. The W1 chip speeds the Bluetooth pairing process between Apple devices and headphones.
Instead of pairing the headphones every time by going into settings, this is now a fast and simple process. All you require to do is tap your apple device against the headphones, and the pairing occurs automatically. A simple click or tap automatically disconnects the headphones from one device and pairs them to another.
This is a useful feature because fiddling with Bluetooth settings each time you pair headphones with your devices can be relatively inconvenient. The W1 chip makes the connecting and pairing process extremely quick, which makes it one of the best features of the headphones.
The W1 chip feature consumes lower power and improves Bluetooth performance for the devices installed. This gives both headphones a long battery life. However, Beats Studio 3 provides less latency than Beats Solo 3 on both iOS and Android devices. Therefore, opting for Studio 3 will help minimize the audio-video mismatch.
Noise Cancellation
Another significant difference in the headphones is the active noise cancellation feature. No one likes to have unwanted external sounds when listening to music. Otherwise, headphones will not be needed if you are still distracted by the surrounding noise.
Regarding noise cancellation, the Studio 3 headphones are ahead of the Solo 3. The difference between Beats Solo 3 and Studio 3 is that the Studio 3 headphones have been integrated with active noise cancellation enabled (ANC). This feature excellently suppresses the background noise when you listen to your music. Studio 3 has built-in microphones that listen to the environment to detect noise levels and adjusts the noise cancellation to suit the environment.
The active noise cancellation feature makes Studio 3 excellent for noisy areas. However, active noise cancellation is a common feature today in wireless headphones, so, unfortunately, the Solo 3 doesn't have this feature.
The Solo 3 has no noise cancellation feature, which makes it susceptible to surrounding noise. And while they don't have the ANC technology, they can still isolate the low-frequency noise, such as people's talk. But even if they can cancel such noise, Solo 3 headphones are not recommended for use in crowded places. The Solo 3 is hence better suited for a quieter environment where you don't require to keep your volume high to hear the sound.
Both headphones also feature the Transparency mode, which is only compatible with Apple appliances such as iPhones. This mode allows you to conveniently disable the active noise cancellation mode and hear what is happening in the background.
Comfort
Both headphone models feature soft padding on the interior of the headband and plush ear cups that feel good against your skin. While the Bears Solo 3 and Studio 3 are relatively similar in design and aesthetics, featuring an on-ear form factor, the Solo 3 is slightly behind in comfort.
Regarding Beats Solo 3 vs Studio 3 on the head, although the Solo 3 gives a firm grip on your head, it is not very comfortable, particularly when listening to continuous music for hours. On the other hand, the Studio 3 over-the-ear design is more comfortable for long hours of listening to music than the Solo 3. Also, the enclosure offers a better listening experience, canceling unwanted noise.
If you normally don't wear headphones for more than an hour, the Solo3 works great. However, Studio 3 will offer a better choice if you live on headphones. Therefore, when searching for Beats Solo3 vs Studio3 for the gym, it's recommendable to opt for Beats Studio 3.
Beats Solo Vs Studio – Battery Life
As daily companions, we often use headphones during calls, listening to music, zoom meetings, etc. It is hence essential to have a good battery life to avoid regular charging problems. When it comes to battery life, both the Solo 3 and Studio 3 have great battery life.
However, the Beats Solo 3 has an advantage over the Studio 3. The Solo 3 provides up to 40 hours of playback, while the Studio 3 only offers around 22 hours. This makes the Solo 3 ideal for long outdoors where you might not have electricity access. However, when you switch off the ANC feature on Studio 3 headphones, you will enjoy an extended battery life.
Although the Beats Solo 3 is superior to Studio 3 in terms of battery life, using features such as transparency mode can easily take a toll on your battery life. There is a high probability that noise cancellation or transparency mode significantly reduces the playback hours, if not halved.
Both these Beats Solo 3 and Beats Studio 3 headphone models come with a fast-charging feature but the Solo 3 headphone charges faster than Studio 3. A mere five minutes of charge time can give your Solo 3 enough battery power to playback audio for three hours. On the other hand, charging Studio 3 for ten minutes offers you the same three hours of music playback.
Accessories
You won't see a lot of accessories when unboxing the Studio 3 vs Solo 3, as both are light on that aspect. Both come with charging cables, carrying cases, and audio cables to enable you to switch to wired mode. The only difference between Beats Studio 3 and Solo 3 is their carrying cases. The Studio 3 features a hard carry case that provides better protection against physical damage than the Solo 3's soft carry case.
Portability
Both Beats Solo 3 and Studio 3 headphones are foldable into a compact format, making them occupy less space in your bag. This makes them more portable than the non-folding models. In both models, you can adjust the headband depending on your head size as they feature adjustable headbands. More so, they have soft ear cushions that make them ideal for long use.
Both these Beats Solo and Beats Studio models are lightweight, and their carrying cases make them even more portable. However, the Studio 3 model is slightly heavier, weighing 0.58 pounds, compared to the Solo 3s, which weighs 0.47 pounds. The Solo 3 is hence more portable than the Studio 3, making them ideal for jogging and gym use. But on the other case, the bulkier Studio 3 headphones have a more protective hard carry case.
Price
Another essential factor to consider when purchasing any product is the price. Therefore, you probably wonder how Beats Studio3 vs Solo 3 compare in terms of price. The Beats Solo 3 is relatively cheaper because it does not offer a lot of functions. On the other hand, Studio 3 comes at a higher price, but you will be getting a premium product worth the extra bucks.
Beats Solo 3 vs Studio 3 – Video Review
Bottom Line
As you have seen, there is no significant difference between the Beats Solo 3 vs Studio 3 in terms of hardware, particularly after Apple included the W1 processor on both models.
But when it comes to price, the Solo 3 offers a cheaper option. This model offers better value for your cash, although the sound quality is not as good as the Studio 3. They have a longer battery life, charge faster, cost less and weigh less than the Studio 3.
On the other hand, the Beats Studio 3 has better performance regarding noise cancellation, sound quality, and comfort than the Solo 3. If you are looking to use your headphones for hours of playback, Beats Studio 3 is certainly worth considering, although you will spend more. Studio 3 also has a remarkable contoured ear design, enabling it to fit comfortably with any ear shape. Its noise cancellation also works better compared to the Solo 3. Generally, both models are worth it.
FAQs
Let's look at some of the frequently asked questions by customers.
Which of the two headphone models should I buy?
The Beats Studio 3 and Beats Solo 3 are among the most famous headphones on the market. They both provide excellent comfort and sound quality, but some differences exist. The Solo 3 has an on-ear design, while the Studio 3 has an ear design. The Beats Solo 3 also offers up to 40 hours of battery life, while the Studio 3 has a 20 hours battery life. In terms of price, the Studio 3 is more expensive but features premium high-quality features such as ANC. So, you can opt for Solo 3 if you want decent headphones at a lower price, but if you are not on a budget, Studio 3 is the better option.
Can I make adjustments to my listening experience without pulling out my paired device?
Absolutely yes! On both Beats Solo and Studio, you can use the buttons on the left ear cup to increase or lower the volume and the button on the right ear cup to switch between the audio source and phone call of the paired device.
What is the difference between Beats solo and studio?
As stated earlier, while there are many similarities, there is a difference between Beats Solo and Beats Studio headphone models. One of the differences between Studio3 and Solo3 is the price; in which the Solo 3 is cheaper, more lightweight, and has a longer battery life than Studio 3. However, Studio 3 comes with premium features such as active noise cancellation, a hard casing, and higher sound quality, which justifies its higher price.
Should I pay more to buy Studio 3?
This will depend on your personal choice of whether or not to pay the extra bucks to buy the noise-canceling, over-the-air studio headphones. But, for high-end headphones like the Beats Studio 3, they are worth the price.
Can you use Beats Studio 3 without Bluetooth or a WiFi connection?
Yes, the Beats Studio 3 features both wireless and plugged-in wire modes. You can hence use the wired mode to listen to music without having to connect to Bluetooth. You can also use Bluetooth devices even when not connected to the internet or cellular service.
How long do Studio 3 headphones last on a full charge?
When the headphones are fully charged, all five lights stay lit. These headphones offer up to 22 hours of playback from 90 mins charging, and up to 40 hours when the active noise cancellation feature is off. For fast charging, a ten-minute charge offers up to 3-hours of playback.
Do these headphones require to be charged when used in wired mode?
Yes. Even when using them in wired mode, they still need a charged battery.
As a freelancer, I use my skills on the computer and internet to research, assess and familiarize myself with various exciting services and products. I rely on my research skills and experience to analyze these products and services, read their reviews and testimonials of customers to help my audience learn more about them. With such knowledge, it is easy for my audience to make the right choice when making a purchase. I am trying to find answers to people's problems by researching online and sharing my knowledge on the internet. I also write about my lifestyle and share it with my audience.