Ankle fitness tracker – the latest trend in the fitness tracking industry. More fitness enthusiasts are starting to wear fitness trackers on the ankles instead of having them on their wrists or arm like they used to.
While a fitness tracker on your ankle can offer accurate step count tracking and heart rate monitoring depending on the model, it can provide inconsistent feedback for other data measurements.
Fortunately, fitness trackers are now available specifically designed for wearing on your ankle and offer real-time and accurate data. Here is an exclusive look at the best ankle fitness trackers for your needs, including a buying guide to help you decide on your best fit.
Best ankle fitness trackers – Quick Overview:
| | | |
| --- | --- | --- |
| | | |
| | | |
| | | |
| | 9.72 x 1.13 x 0.49 inches | |
| | | |
| | 1.56 x 1.59 x 0.47 inches | |
| | 0.49 x 0.73 x 1.86 inches | |
| | | |
No time? You can go straight to an in-depth review of each tracker. Also, you may need an ankle band to wear the above fitness trackers on your ankle. Read more about that below.
What is an Ankle Fitness Tracker?
In case you don't exactly know what an ankle fitness tracker is, this refers to a device or gadget resembling a watch or bracelet placed around the ankle area of your leg. The gadget records your heart rate, general activity levels, steps, etc., and the data is used to track and calculate other health aspects such as burned calories while working out.
Benefits Of a Fitness Tracker
Fitness trackers provide you with lots of benefits. They help you to track your heart rate and monitor your vital fitness elements. They also track your sleep accurately as well as your overall physical well-being.
Fitness trackers offer you health data and help identify factors that can help reduce your heart rate, the effects of aging, and gender on your overall health and overall activity. In general, fitness trackers are very useful.
But what is the difference between an ankle fitness tracker and a wrist fitness tracker? Well, the major difference is the location of wearing them, which is self-explanatory. However, the major debate is how effectively they function in every location.
Reasons You Should Use Ankle Fitness Trackers
Lesser Distractions
Today, most people are easily distracted. You have probably noticed you regularly check your phone even without the need for it. You will be easier and more distracted, particularly on a wrist fitness tracker and smartwatch.
By wearing a fitness tracker on your ankle, you can continuously avoid getting distracted during your exercises by regularly checking your distances, heart rate, and other distractions. Therefore, having an ankle fitness tracker will help most people to concentrate on their training or activity better.
Increased tracking accuracy
The accuracy of tracking devices is essential. There is no point in tracking your data if it's not accurate. Compared to an ankle fitness tracker, a tracker on your wrist is less accurate. I mean, you can just sit while swinging your arms without moving your legs. You might also want to do some biking on an exercycle and track the results.
What if you don't swing your arms a lot when running? You might also be a cook or nurse who cannot wear a gadget on your wrist. An ankle presents better accuracy tracking in these situations, and why most consider the ankle to be a position to wear your fitness tracker.
If your foot moves, the ankle fitness tracker moves, and records too. This is a pretty simple concept and why most people prefer a fitness tracker for the ankle.
Disadvantages Of Using Ankle Fitness Tracker
While ankle fitness trackers sound mesmerizing and amazing, they also have some drawbacks.
Recording heart rate data
This is a bit speculative, and most have been able to get accurate good heart rate readings from their ankle fitness tracker. However, the wrist is the better position to wear your fitness tracker for recording heart rate readings. The devices are physically and ergonomically designed to fit your wrists, making getting more accurate heart readings easier.
Sleep tracking won't be accurate
If you consider tracking your sleep quality, tracking on your ankle is probably less accurate than on your wrists. Most people who have tried these devices have claimed that ankle fitness trackers are less accurate in tracking sleeping than wrist devices. Sleep tracking will not be accurate with ankle trackers because most people move their legs a lot when sleeping.
Not designed for the ankle
Another essential thing is that most fitness trackers are built for wearing on your wrist. For instance, Fitbit even recommends wearing their fitness trackers on the wrist. Therefore, if the fitness tracker is not specifically designed for wearing on the ankle, it's not an appropriate option for wearing on the ankle. You won't easily view the screen for the trackers with a screen because it's positioned on your ankle instead of the wrist.
These are the pros and cons you experience when you wear a fitness tracker on your ankle. Ultimately, the choice comes down to the one that suits your lifestyle or tracking preferences most. This brings the question;
What are the Best Ankle Fitness Trackers?
1. Fitbit Flex 2
At the top of our list of the best Fitbit for ankle is the Fitbit Flex 2. This is a slim and sleek, swim-proof fitness wristband or ankle fitness tracker ideal for any activity. It features an automatic all-day activity and sleep tracking that indicates how your whole day adds up. This Fitbit ankle tracker also has Smart Track automatic exercise recognition that records your activities. The display features color-coded LED lights to keep you conveniently connected to your texts, calls, and reminders. Additionally, it is waterproof, so you don't have to worry about running in the rain or swimming. Generally, this ankle fitness tracker is fun, has no fuss, and is perfect for all uses. It tracks distance, steps, active minutes, and calories burnt.
Pros
Swim proof and waterproof
Ultra-thin, sleek tracker
Decent battery life
It has smart track technology to record your workout activities automatically
Automatically records your sleep quality and duration and sets the alarm to wake you up.
Cons
It is relatively expensive
It has no display
2. Fitbit Alta HR
Here we have another ankle fitness tracker option from Fitbit. Keeping track of your daily steps, heartbeat, and more fitness-related data is essential, and with this versatile Fitbit Alta HR, you have the guarantee. You can conveniently strap this large black Fitbit Alta HR fitness wristband to your ankle for all-day activity tracking and heart rate monitoring. The Fitbit Alta HR is the slimmest design among the company's fitness trackers. This design is made for long and flexible wear. Lastly, this tracker has an excellent battery life that easily hits a week.
Pros
It comes with one of the slimmest designs.
Sleep stages monitoring to help improve your sleep
It has a long battery life of up to 7 days
It offers an excellent fit
Cons
The display icons are relatively small
3. Fitbit Charge 4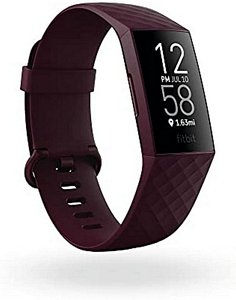 Next on the list of the best ankle fitness trackers is Fitbit Charge 4. This tracker is an upgrade from the Fitbit Charge 3 and features all the bells and whistles you can find in high-end and premium fitness trackers. It has essential features that help you know your body and the best exercises, including oxygen saturation levels, sleep tracking, 24/7 heart rate monitoring, and active zone minutes. This ankle tracker also has a built-in GPS that allows you to view your pace and distance on screen during outdoor runs and exercises. Fitbit Charge 4 is waterproof and lightweight, making it a perfect option for wearing on the ankles while walking or jogging. Plus, with up to 7-day battery life and Fitbit Pay, it is a convenient option on the go and offers more motivation to achieve your fitness goals.
Pros
Built-in GPS
24/7 heart rate and activity monitoring
Swim proof up to 50 meters
A decent battery life
Text and call alerts
Cons
4. Fitbit Charge 5
The Fitbit Charge 5 is an upgrade from the Fitbit Charge 4 and is one of the most accurate ankle fitness trackers for measuring heart rate and steps. This ankle activity tracker accurately detects and automatically starts to record exercises such as walking, running, swimming, and biking. Its colorful touchscreen display is clear, featuring easily readable icons two times brighter than Charge 4.
One of its unique features is the Daily Readiness Score, which shows if you are ready to exercise or should be in recovery. You will also be able to track your heart health with low and high heart rate notifications. Its simple and concise app enables you to easily analyze your daily activity data and link up with other Fitbit users, which helps you keep motivated.
Pros
It has a built-in GPS
Water-resistant for up to 50 meters
Sleep tracking
Decent battery life
Cons
Pricier than the Charge 4
5. Fitbit Versa 2
Are you searching for the best Ankle fitness trackers? The Fitbit Versa 2 has all the basic features of most fitness trackers. The Versa 2 is specifically designed for users keen on fitness. It is compatible with Amazon Alexa, which allows you to control your smart home devices, check the weather, set alarms and timers, and get quick information. Fitbit Versa 2 monitors your heart rate and sleep and gives a sleep score to give you insight into your sleep quality. Even better, the Fitbit Versa 2 ankle activity tracker bridges the gap between your wrist or ankle and phone by offering texts and calendar notifications as well as playing music from your phone during the exercise sessions. Most importantly, this model can be used as an ankle fitness tracker.
Pros
Sleep tracking
Long-lasting battery
Elegant and lightweight design
It gives real-time and accurate data
Cons
6. AmazFit Band 5
AmazFit is one of the leading smart wearable brands in the world and is now offering one of the best ankle fitness trackers. One of the unique features of the AmazFit Band 5 fitness tracker is its long battery life. When fully charged, you won't need to carry a charger for some weeks. Additionally, it comes with a 1.1 inches full-touch display screen for a convenient viewing experience. This fitness tracker for ankle is equipped with a Huawise fitness tracker that precisely monitors your heart rate, daily activities, and other health statists and converts the data into one numerical score. This tracker can also measure your daily steps during active exercise, oxygen saturation, and sleep quality to help you improve your overall health.
Pros
Compatible with Amazon Alexa
Can measure your blood oxygen saturation
Provides optimal heart rate monitoring
Ideal for high-intensity sports and workouts
Cons
The blood oxygen meter can sometimes be inaccurate
7. Kummel Fitness Tracker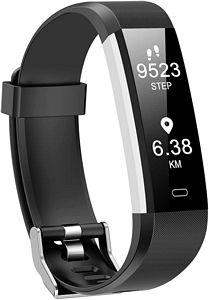 This kummel ankle fitness tracker has all the features you would wish for on a fitness tracker. This activity tracker includes 14 sports modes to track your daily activities, like calories, steps, duration, and distance. Depending on your fitness activity, you can add several modes from the Veryfitpro app, such as running, walking, treadmill, biking, dancing, tennis, workout, yoga, badminton, etc. This elegant fitness tracker has a clear-to-see OLED touchscreen that allows you to view it even in sunlight.
This Kummel fitness tracker features heart rate and sleep monitoring to monitor your heart rate during the day and your sleep at night. It also has a step counter to keep track of your distance traveled and activity levels. The sedentary reminder serves to remind you when you stay for long without exercising. One of the unique features of the Kummel fitness tracker is the remote camera that controls your smartphone's camera to capture the moment.
This Kummel smartwatch can be integrated with your phone for call and message alerts. You will conveniently get SMS messages, calls, and SNS notifications on your wrist, including Gmail, WhatsApp, Twitter, Facebook, and Instagram. Therefore, it will keep you online, and you won't have to miss any important messages or calls. It also features an alarm clock to help you manage and keep track of time.
Pros
A decent 7-day battery life
Text message and call alerts
accurately records all-day activities data
Heart rate and sleep monitoring
Offers great value for the money
comes with a built-in USB charging port
Cons
It needs smartphones with android 4.4 and iOS 7.1 above.
Best Fitness Strap for Use with Wrist Fitness Trackers
1. Wakaka Large Buckle Sports Mesh Pouch
When searching for an efficient and reliable strap for your wrist tracker, the Wakaka Large Buckle Sports Mesh Pouch should be right at the top of your list. This strap features a stylish design and simple functionality. You won't ever worry about losing your Fitbit. This tracker will fix your tracker fall-off issue.
If you like being stylish, you can conveniently personalize your fitness strap to match your style with the several color choices. The model also provides comfortable results. It's lightweight and made of soft fabric, ensuring you get an accurate fit.
This Wakaka Sports Mesh Pouch is compatible with several wrist tracker models, including; Fitbit ONE, Alta HR/Activity Tracker, Fitbit Flex 2, Fitbit ALTA, and Garmin Fitness Band. However, you should remember that Fitbit's gadgets were designed to monitor data from your wrist and not your ankle. There are no official ankle fitness bands from Fitbit. Therefore, they might work or not work on your ankle.
2. DDJOY Ankle Strap for Men and Women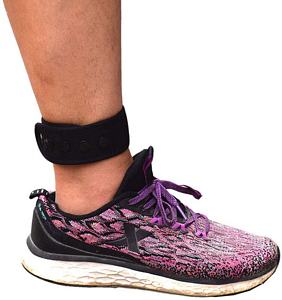 This Ankle Strap for Men and Women from DDJOY is among those that offer more accurate results. You can use the ankle fitness strap whether walking or riding a bike. The band is completely adjustable, smooth, and soft against our skin. You won't have to worry about getting any skin rashes for using the strap. They are also available in several patterns and colors to allow you to find your secure fit.
The DDJOY Adjustable Ankle Band Fitness strap is made of sturdy material, which ensures you won't need to worry about losing your fitness tracker on the strap. It has many snaps that hold it sturdy around your ankle area, eliminating any fears of losing it. The strap allows your tracker to accurately count your steps as you exercise or in your daily activities.
With a comfortable and lightweight design, you can comfortably wear it throughout the day. The fitness band is also available in two size options to choose the best size for you. They are available in medium size fits, 7 to 10 inches, and the X-large strap,9 to 13 inches. There are many snaps on the band for you to freely adjust to your comfortable size.
Lastly, The DDJOY Adjustable Ankle Band has been made in a compatible design with Fitbit products, including the Fitbit Blaze, Versa SE, Versa 2, Versa, Charge HR 2, Charge 3, Charge 4, etc. it's also compatible with Garmin models, Polar A360, and more.
Pros
Provides an excellent fit
Offers accurate results
Compatible to wear all-day
Durable and lightweight
Cons
Only available in two sizes
Which Fitness Trackers/Watches Are Compatible with The Above Straps Reviewed?
If you love the Fitbit brand and want to wear a Fitbit or Garmin fitness tracker on your ankles, then several compatible options with fitness straps are available. But first, you should keep in mind that Fitbit's fitness trackers are designed to monitor data from your wrist and not your ankle. There are no official ankle fitness bands from Fitbit.
Fitbit's tracking devices compatible with the DDJOY Adjustable Ankle Band include; Fitbit Charge 4 Fitness and Activity Tracker, Fitbit Luxe Fitness and Wellness Tracker, and Fitbit Inspire 2 Health & Fitness Tracker. For Garmin enthusiasts, the Garmin vívofit Fitness Band is one of the fitness trackers compatible with the Wakaka Large Buckle Sports Mesh Pouch.
Best Ankle Pedometer
Other than comfortability, another reason you would consider using Fitbit fitness tracker straps on your ankle is for a more precise ankle pedometer.
The ankle step counter feature on all modern fitness trackers is not very accurate. This is because the trackers use wrist-based sensors. Some trackers even use an accelerometer, meaning they count steps by analyzing your hand movements. On the other hand, some use simple pedometers that track the number of your steps by monitoring your body's tilt movement.
The problem with wearing them on your wrist is that some hand movements can confuse the tracker, making it wrongly count the steps. Hence, most people wear their Fitbit trackers on their ankles, making counting the steps more accurate.
1. 3DFitBud Simple Step Counter Walking 3D Pedometer
One of the best pedometers to use with ankle straps is the 3DFitBud Simple Step Counter Walking 3D Pedometer. This pedometer is easy to use in monitoring the steps only with no complicated setups. It comes with an advanced 3D Tris-Axis Sensor technology that gives it a more accurate reading of steps in any position compared to most pedometers. It also has a clip to easily attach to the fitness tracker strap, great battery life, and a large screen display.
Generally, if you are more interested in counting your steps, having a pedometer in your ankle strap will make it more accurate in this functionality.
2. 3DTriSport Walking 3D Aankle Step Tracker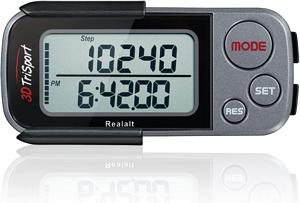 This elegant, lightweight, and compact ankle step tracker records your daily steps when walking and running, distance in km and miles, exercise time, and calories burnt. It keeps track of the progress with thirty days of memory and the total accumulated records keeping you motivated to achieve your fitness goals. You can also set a daily step target for yourself. These details are well displayed on a big, easy-to-read screen.
This 3DTriSport Walking 3D pedometer features the latest Tri—Accelerometer technology to measure your steps accurately. The pedometer also has various wearing options enabled by the Lanyard and removable clip. You can clip it around your neck, on the waist, on the Lanyard, or just place it in your bag or pocket. Another unique feature is its 10-step Error Prevention feature that helps to prevent non-walking movements from being falsely counted as steps.
Pros
It's compact and lightweight
Battery life of up to 12 months
Easy to set up
Accurately records the results
Has a large, easy-to-read display
Cons
Ankle Fitness Tracker Buying guide
Today, there are countless fitness trackers available in the market. But only a few of these trackers are considerable and effective in analyzing your fitness data. You are probably wondering how to choose the best ankle fitness brand because you don't want to waste your cash on the wrong fitness tracker that will turn out to be useless for you. Here are some of the factors to consider.
Price
When getting an ankle fitness tracker, the first thing you should consider is the price and whether it fits your set budget. Nevertheless, the price of the ankle tracker should comply with its features. You should analyze all the features and compare them with other tracker models in the same range to check if you will be getting a valued tracker.
The type of data it tracks
Before getting the fitness tracker, you want to be sure about the various data points it tracks depending on why you are getting one. Some of the several data points it should track include; distance traveled, the number of steps traveled, workout duration, and heart rate monitoring.
However, the best ankle fitness tracker should come with extra features such as; sleep tracking, GPS monitoring, touch screen, Blood oxygen sensor, and stress tracking. The additional features are what differentiate basic trackers from high-end trackers.
Size
Ankle fitness trackers are available in a wide range of sizes. Everyone has different needs, and you should hence look for the perfect fit based on your size. Also, go through the customer review to find out what other users are saying about the specific size.
Demand
Demand is also essential as it shows the ability of the particular tracker to perform the functions they desired for. For example, if a tracker has been in the market for a while and it still has a good reputation, it shows its effectiveness in performing the job it was manufactured to do. Therefore, you should consider going for ankle fitness trackers that are high in demand.
Material and durability
The material of trackers differs from one brand to another. How you intend to use your tracker will help you choose the type of material to go for. If you want the tracker for exercising and working out, you should opt for water-resistant material.
The quality of the material will determine the durability of your ankle fitness tracker. For a reliable and long-lasting option, you should buy a durable option. The material should also be breathable, lightweight, and comfortable for comfort and ease of use.
Color
We all have our favorite colors. Fortunately, fitness trackers are available in different colors for you to select from. Make sure to choose a fitness tracker that matches your style.
Water resistance
Most of the available fitness trackers today are water-resistant. This allows you to wear them even when it is raining with no worry. However, the water resistance degree varies from one brand to another. If you want a tracker that you can wear in the shower or swim with, find one with 50M water resistance or more.
Accuracy
Different ankle fitness trackers have varying accuracy levels. This means that some trackers might be inconsistent or give you inaccurate results. So, before you purchase your preferred tracker, ensure it can track accurately.
Battery life
While some fitness ankle trackers can last for weeks or even months, some of them barely last for a few days. If you don't have a problem recharging your tracker each night, this should not be a big deal for you. But if you want a tracker that provides 24/7 monitoring, you should opt for one that lasts for weeks or months.
Warranty
Another thing you should consider is the period of warranty offered on purchasing the tracker. Most brands provide a decent warranty period as a guarantee of quality and your satisfaction. If you choose to go for the costly option, ensure it has a decent warranty option.
IOS OR Android Compatibility
Most fitness trackers operate in tandem with smartphone downloadable apps. Hence, it is important to check if the tracker you want to get is compatible with the operating system of your phone, either android or iOS. You can check the operating system of your phone by going to the settings.
Bottom Line
Ultimately, all fitness trackers are suitable for ankle wear. If you are worried about choosing the wrong ankle fitness tracker, any above-reviewed models should meet your fitness monitoring needs. Important to note is that the best fitness tracker for your ankles should fit comfortably and be well-adjustable. Also, ensure your selected ankle activity tracker has precise accuracy and tracks a wide range of health and fitness statistics.
FAQs
Can an Apple watch be worn on the ankle?
Apple watches such as Fitbit were not designed to be worn or read data on the ankles. Therefore, the best way of wearing an Apple watch is on your wrist, as it was specifically designed to be worn. Alternatively, there are many ankle bands that you can purchase on Amazon, but accuracy will not be guaranteed.
Can you wear the Pedometer on your ankle?
Yes! You can wear a pedometer on your ankle using the fitness straps. More so, the accelerometer on the ankles will count the steps and analyze the distance you have covered.
Who should purchase ankle fitness trackers?
Ankle fitness trackers are more suitable for people who can't wear the fitness trackers on the wrist. Wearing them on the ankle is also quite comfortable. Ankle trackers are the best option for those who require to count their steps accurately. For example, athletes, cyclists, runners, hikers, and nurses should prefer an ankle fitness tracker as they are less distracting and more accurate than wrist-based trackers.
As a freelancer, I use my skills on the computer and internet to research, assess and familiarize myself with various exciting services and products. I rely on my research skills and experience to analyze these products and services, read their reviews and testimonials of customers to help my audience learn more about them. With such knowledge, it is easy for my audience to make the right choice when making a purchase. I am trying to find answers to people's problems by researching online and sharing my knowledge on the internet. I also write about my lifestyle and share it with my audience.