If you often drive for several hours daily, you are most likely familiar with poor posture and uncomfortable seats that often cause neck pain, backaches, numbness in the buttocks as well as shoulder muscle tension. Combine this with a sedentary nature, such as a regular eight-to-four desk job, and you are in for a disaster.
Fortunately, getting yourself a comfortable, nice car seat massager can help. This little equipment can work wonders if you are suffering from serious backaches. They massage your back muscles as you drive, helping your neck, shoulders, back, and spine to feel well rejuvenated after each ride. Below, I review some of the best Snailax car seat massagers available in the market for ultimate relaxation.
What Are Car Seat Massagers?
Car heat massagers are chair-shaped inserts attached to most cars' standard seats. The seat massager is connected to power via USB or a 12 volts cigarette lighter port common in most cars. Similar to massage chairs, these gadgets offer a variety of massages and heating therapy to relieve joint stiffness, muscle tension, and relieve discomfort, and pain.
How Do They Work?
A car seat massager is a perfect travel companion that ensures pain relief and comfort, fitting all chair and seat types. The massager syndicates a heat therapy and vibration massage to resolve muscle tension, soreness, and overall pain in your lower and upper back.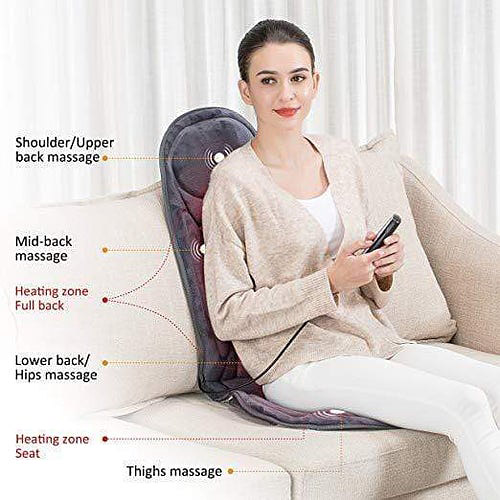 These massage car seats have a system of pockets under the seat's cover. A small compressor deflates and fills the pockets with air within the seat. This provides the person in the seat the impression that their back is being well kneaded. Most massaging systems are commonly fitted on the seatbacks, but some also have a massaging function in the seat base.
There are buttons for the driver or passengers to control the massage function. You can control the massage intensity and speed with the controls. The combinations can be fast and gentle, slow and gentle, fast and firm, or slow and firm. The massaging seats have an auto-shutoff feature, and the massage only stays for a pre-set amount of time, normally about 15 minutes.
Why Is There Pain in The Back When Sitting for A Long Time?
One of the common reasons your back hurts is sitting for a long time or having bad posture. Sitting in hunched or slouched-over position can put a strain on your vertebrae discs and the fluid-filled cushions that defend the vertebrae from rubbing together. According to scientific studies, adopting a hunched sitting position when driving or long driving sessions without a break even when not hunched can cause increased shoulder and back issues over time. This might be made worse by an underlying medical condition.
Benefits Of Using Car Massagers
Having regular massages has several mental and physical benefits. Although you can go to a spa to get a massage, it is more affordable and convenient to use a seat massager at your home, car, or office anytime you feel like it. A car seat massager cannot provide you with the same massage as a human therapist can, but it still has several health benefits. Some of these include;
· Enhances blood circulation
The massage car seat provides you with an invigorating massage that helps to enhance blood circulation. This causes better nutrient absorption into the organs and tissues and strengthens the immune system.
· Relieves muscle pain
A seat massager effectively relieves your muscle tension and pain by kneading the muscles. Being massaged regularly soothes the achy muscles giving you great relaxation.
· Enhances mood
Car seat massagers trigger the secretion of good-feel hormones, commonly referred to as endorphins. These hormones help reduce the perception of stress and pain and enhance your happy mood.
· Reduced stress
Helping your body relax a bit by getting a nice massage from the car seat massager will also reduce your cortisol levels in the blood.
Best Massage Car Seats
Now that you understand car seat massagers and why you need one, let's look at the best massage car seats available. These massagers have many positive reviews, with most customers loving the products.
1. Back Massage Car Seat Cushion with Memory Foam SL-262M
Snailax is one of the major manufacturers of car seat massagers, and this Back Memory Foam Car Seat Cushion is one of the bestselling products. When you feel stress and muscle tension creeping in, particularly during long car rides, this Snailax car seat cushion can offer relief. The massager effectively relieves tension, stress, fatigue, and soreness, making your rides more comfortable and enjoyable while providing warmth for your lower and upper back, glutes, and hips.
The cushion comes with different heat therapy levels. You will need to switch between the five different modes to target different areas of your body, allowing you to adjust the heat based on your preference. The five different massage modes include; tapping, pulsating, kneading, rolling, and auto, and normally help the muscles relax.
The car seat cushion also has three heating pads to keep you warm on cold days effectively. You can use the heating function without the massage function if you only want to get a bit warm or cold. It also comes with automatic overheating and shutoff protection features. The timer lets you set massages for 15, 30, or 60 minutes.
Another great feature of this seat cushion is how easily it can mount on different chairs and seats. It features adjustable straps and a rubber bottom, ensuring a secure fit for use in all types of trucks, cars, boats, and RVs.
2. Heated Massage Pad with 6 Vibrating Motors SL-262P
This seat cushion features six powerful massage motors that target the lower, mid, and upper back and the thighs to relax and relieve muscle stress and tension. You can effectively choose the massage function on four zones individually or at once to your preference.
Additionally, the five program modes and the four-variable vibration intensities bring you a customizable best massage as anticipated. If you always feel like not sitting on your car seat during cold mornings, no need to worry again about the soothing heat therapy feature. The seat warmer gives the full seat and back radiating gentle warmth to enhance body circulation and relax your sore muscles.
This seat is effectively equipped with Overheating protection system, an auto-shutoff timer, and dual insurance for safe use. Another unique feature of this Snailax seat massager is the ultra-soft plush fabric. The seat pad cover is 100% ultra-cozy plush and soft polyester, providing a great and comfortable feeling on your body.
To keep the massager in place, it has a dual adjustable strap wrapped around the back chair seat to keep the cushion secure and stable. Even better, the car seat includes a HOME adapter, making it easy to use the cushion at home, in the car, and in the office with your office chair. This car seat massager will be a great gift for both men and women.
3. Snailax Massage Seat Cushion – Back Massager with Heat SL-262A
Enjoy a relaxing massage and heat when driving with this compact back massage seat cushion. The massage seat cushion features six vibration motors that seep into your muscles and tissues to relieve muscle tension, fatigue, and soreness. The back massager offers the ultimate comfortable seat for a long sedentary trip. Remember that this is a vibrating massage and not a Shiatsu massage with Rolling Balls.
The heat therapy seat warmer is targeted at your full back, and the seat provides radiating gentle warmth to enhance circulation and relax sore muscles. The massager has an auto-shutoff timer, overheating protection system, and dual insurance for safe use and maximum safety.
With this Snailax Massage Seat Cushion SL-262A, you can conveniently choose the massaging area on the lower back, upper back, thighs, or hips, or even combine all the areas simultaneously. All five programmable modes plus four variable vibration intensities give you a customizable message as desired.
To stay in place, the massage seat cushion is made with adjustable dual straps and non-slip rubber bottom to secure it properly. Not only will you safely secure it in your car but also at home and in the office. This is one of the back massagers for the car you can get.
4. Massage Chair Pad with Extra Memory Foam-126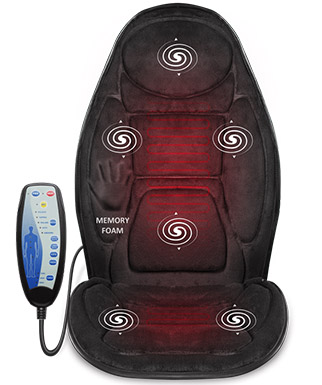 Last but not least is the Snailax 10 Motors Massage Seat Cushion with Heat, another best seat massagers for cars from Snailax. Thanks to its portable and lightweight design, you can bring the massaging seat with you for any car, home, or office use.
The massage seat cushion has been designed with a comfortable and soft memory form. The lumbar support and neck rest pads offer you great pressure relief and superior comfort. The material is also easy to wipe clean with a wet cloth.
The ten powerful vibrating motors and heat functions of the back massager offer soothing, gentle massage for the thighs and back to help relieve tension, stress, and muscle pain. With most car seat massagers having six massage motors, this ten-motor seat is more powerful and relaxing. The five vibration modes include; pulsate, Tapping, Auto, Rolling, and Kneading, plus 5 adjustable massage intensities.
Besides the massage function, the seat pad features heat therapy featuring three heating pads and two heat levels. You can also switch the back heater and seat heater. The memory foam material is comfortable and safe to keep you relaxed when traveling long distances.
Like most Snailax car seat massages, the seat has been incorporated with an overheating protection system and 30-minute auto-shutoff. For guaranteed safety, a UL-approved 12V home adapter is included.
Another great feature of this car seat massager is the non-slip rubber bottom that keeps it in position. Adjustable straps also make it fit securely on any seat.
Table For Comparison



SL-262M
SL-262P
SL-262A
Foam-126
Memory foam padding
Soft polyurethane memory foam padding
100% ultra-cozy soft polyester
100% ultra-cozy soft polyester
100% ultra-cozy soft polyester
Number of Vibration massage motors
6 vibrating massage motors
6 vibrating massage motors
6 vibrating massage motors
10 vibrating motors
(8 for back and 2 for thighs)
Heat Therapy
3 heating pads
Full-back and seat heat warmer
Full-back and seat heat warmer
2 heating levels
Non-slip bottom and elastic straps
Yes
Yes
Yes
Yes
Safety features
Overheating protection and auto shut off
Overheating protection and auto shut off
Overheating protection and auto shut off
Overheating protection and auto shut off
Customer Reviews
About Snailax Company
Snailax is one of the one-stop solutions for high-quality products, including car seat massagers, neck massage pillows with heat, and others. The company is situated in Ann Arbor, MI, United States. As the name suggests, you should slow down your fast-paced, stressful life to a relaxing, slow pace similar to a snail.
Snailax understands the current traveling struggles and stressful workplaces and is dedicated to providing its customers with more relaxing and innovative products. These products offer a non-invasive solution to help in replenishing and restoring your muscles and relieving pains and aches.
The company produces high-quality massagers that specifically target the neck, shoulder, head, back, and lumbar down to the feet. You can now enjoy a good relaxing massage at the comfort of your car, office, or home. Additionally, the company is committed to ensuring you can enjoy these products at an affordable price.
Warranty
As a guarantee for quality, Snailax provides a 2-year warranty as a guarantee for high quality. If the product breaks down within two years of the timeline of proper use, customers can enjoy an applicable warranty to replace them.
However, you will not be given a warranty for man-made causes or force majeure to any defective product such as personal tear down, improper care, and willful damage.
Return policy
Snailax provides a return policy for all its products. You can return the products to get a full refund for various reasons within 30 days of purchasing them. Even better, Snailax product allows you to return any of the products for a replacement within 90 days if the product breaks down during the period of proper use.
Bottom Line
These are the best massage car seats from Snailax. The cushions and company have very good ratings and reviews; therefore, whichever cushion you pick from the list, you are sure to be satisfied for years to come. They all have plenty of features to love based on your preference, including a comfortable memory form material, auto-shutoff feature, and built-in overheat protection. You won't complain about backaches any longer.
FAQs
· What is a car seat massager?
A car seat massager is pretty much similar to a massage chair pad. The only difference is that you can use it on car seats. Using vibration elements, a car seat massager uses various intensities and heat therapy to massage your tissue and muscles, relieving stiffness, pain, and stress.
· Does your body type and size matter when purchasing a car seat massager?
In general, massage chair pads have been designed to work for individuals with average weights and heights, making them ideal for most people. However, it is always a perfect idea to look at the massager's measurement to ensure it properly fits your body and the seat. Measure your weight and height to ensure it fits the massager's design before purchasing it.
· How often should you use a car seat massager?
You can conveniently use a car massager wherever you want. Whether it is each day or a few times a week, all is up to you. However, you should keep in mind that frequent and regular massages have more health benefits than irregular massages. But this does not mean that you should use your massager several times a day. You might want to let them rest from time to time.
· Are car seat massagers safe?
Car seat massagers are safe. To avoid overheating, they feature a 30-minute auto-shutoff feature and other built-in safety features. But you should not overuse them. With more extended massage, your muscles might become very numb, giving you bruises that can hurt. Therefore, it's recommendable to avoid overdoing your massage sessions to avoid potential danger.
It is recommendable to use a heated car seat massager not more than three times daily, thirty minutes at a time to avoid overstimulation of your muscles. More so, the car seat massagers get dirty with time. You should hence clean them regularly by wiping them with a damp cloth.
· How can you make your car seat more comfortable?
There are lots of ways of making your car seat more comfortable. You can purchase memory foam cushions, a car seat massager, or lumbar support. Massagers are most effective as they come with a heat function and the comfort of memory foam. Car seat massagers are easy to use and perfectly relieve muscle tension.
As a freelancer, I use my skills on the computer and internet to research, assess and familiarize myself with various exciting services and products. I rely on my research skills and experience to analyze these products and services, read their reviews and testimonials of customers to help my audience learn more about them. With such knowledge, it is easy for my audience to make the right choice when making a purchase. I am trying to find answers to people's problems by researching online and sharing my knowledge on the internet. I also write about my lifestyle and share it with my audience.