Phuket is Thailand's largest and possibly most well-known island. The appeal includes blue seas, sandy shores, spicy Thai cuisine, and good snorkeling and diving. Phuket is one of my favorite places to visit!

The weather here is fantastic, with warm, sunny days all year. The season of monsoon lasts from May until late October, but it may only rain once or twice a day during this time. The Island is also easily accessible; it's only a one-hour flight from all of Bangkok's major attractions.

It is the largest and arguably the most enjoyable of all Thailand islands, located in the south. Phuket has it all: a diverse range of entertainment options, world-class shopping, and some of the country's most attractive beaches.

I've put together a list of the island's top attractions, so you only have to worry about choosing what to do first.
Take a stroll along Kata Beach's sands of gold
Kata Beach is a lovely, curving bay surrounded on both ends by a lush hillside fringed with Casuarinas and palms. It's still popular, but it's quieter than Patong and has fewer hawkers. A little islet stands slightly offshore, and it is long and wide, with soft white sand and good scuba dive sites on both ends.

If you get starved, stop by one of the beachfront stalls for a papaya shake or a snack, and larger restaurants are within walking distance.

The Boathouse Phuket, a luxury boutique hotel on the southern end of the beach, is one of the few resorts directly on the sand. Head south to nearby Kata Noi Beach for an even quieter stretch of beach.
Go for a dip at Karon Beach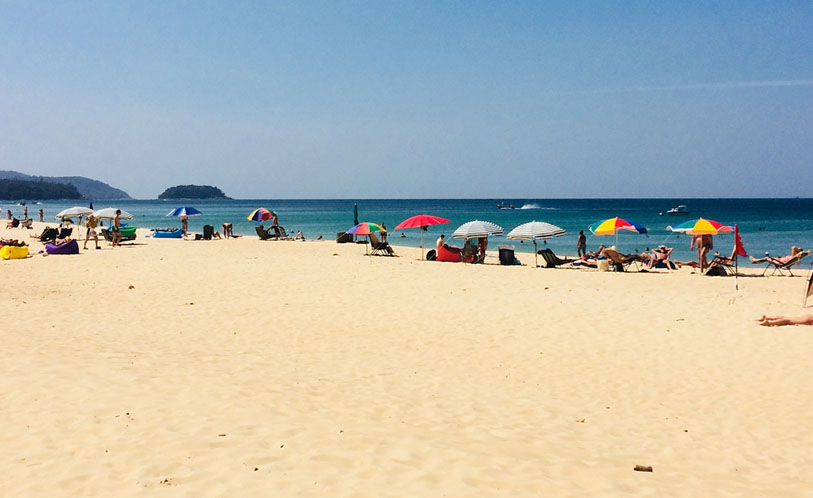 Karon Beach is a 3.5-kilometer stretch of squeaky unique sand and turquoise ocean that attracts a large number of couples and families. It is less developed than the famed Patong Beach, roughly 15 minutes away.

It's a great area for a dip when the weather is calm, but when the winds pick up, large waves pound the wide-open beach here, so be careful when swimming during these times.

Restaurants and resorts line the busy road opposite the beach; however, a few four-star resorts, such as the adults-only Beyond Resort Karon and the luxury bungalows of the neighboring Marina Resort at the southern end of the beach, have direct access. Centara Grand Resort Phuket, which has its own water park, is located on the island's northern end.
I loved sitting under an umbrella on this beautiful beach, watching the rolling waves, and listening to my favorite music in my headphones.
Mai Khao Beach
Mai Khao is Phuket's longest beach, stretching for miles along the island's coastline. The vast beach is clean and well-kept, and a national park surrounds it. Nonetheless, a slew of wonderful resort hotels has cropped up in the neighborhood over the last few years. Swimming, sunbathing, and sunset walks along the beach are common pastimes.

The southern end of Mai Khao Beach, on the other hand, is quite close to the runway of Phuket International Airport, which is a very distinctive characteristic.

Many people come to see the planes as they land and pass by such close overhead. Because it is located within a national park, there is a cost of 200 baht for adults and 100 baht for children.
Phuket Old Town
The center of the Town, the island's capital, is home to Phuket Old Town, an important historical site. It's one of the best places to go if you want to get a real sense of the island's culture.

The 18th-century tin mining boom proceeds were used to construct Phuket Old Town, which is visible today. Several lovely mansions belonged to the tin barons and other buildings built in the Sino-Portuguese style.

Museums, shops, restaurants, and hotels now occupy a number of these structures. The buildings are also brightly painted, making for some gorgeous pictures. The old town of Phuket is very walkable, making it a great place to spend a day exploring and stopping for refreshments at quaint cafes. It's also a great spot to pick up mementos.
Karon Viewpoint
There are numerous stunning views of Phuket, but Karon Viewpoint is one of the most spectacular. It is one of the most preferred viewpoints on the island, located just past Kata Noi Beach.

From the peak, you can see directly out over the sea to the west, although most tourists will be looking north towards the bays of Kata Noi Beach, and Karon Beach. Each coastline can be distinguished with the white sand and turquoise sea shimmering in the sun.

Although this Viewpoint is almost always crowded, parking is usually not a problem. There is a large gazebo where you can relax in the shade, as well as snacks and drinks. Locals may be more familiar with this well-known attraction as Kata Viewpoint, as it was previously known.
Take a boat tour around the island
You might be tempted to spend your entire vacation lounging on the shore (and who could blame you?). Sign up for a tour to see the gorgeous seascape around if you're willing to put in a little effort during your vacation.

Maphrao, Nakha Yai, and Nakha Noi (on the east coast, with pearl culture at the latter), as well as Koh Kaeo Yai, Koh Kaeo Noi, Racha Noi, and Racha Yai (off the southern tip), and finally small Koh Pu (Koh Jum) off Hat Kata, need a special mention.

The easiest way to ensure that you see all of the attractions is to take a guided tour. The nine-hour guided Phang Nga Bay Day Trip from Phuket includes a visit to the famous "James Bond Rocks," while the eight-hour tour to Phi Phi Islands includes a visit to Koh Phi Phi and the famous Maya Bay shore from the Leonardo DiCaprio film The Beach.

Transportation, food, and refreshments are all included, and an expert guide.
Go Diving & Snorkeling
The waters near Phuket Island have Thailand's best diving and snorkeling, with consistently good conditions. The aquatic temperature ranges from 26 to 30 degrees Celsius, and visibility is good. Seahorses, sea turtles, and even whale sharks can be seen among the brilliant corals and tropical fish.

Many tourists visit Thailand to get their scuba diving certification because the courses are less expensive than in other nations. Some operators will transport you to stunning places like Koh Phi Phi, one of the world's most attractive islands.

Consider visiting Similan Islands National Park once you've received your certification. This location consists of eleven uninhabited islands and is known for its excellent diving.
Visit the markets to buy food and souvenirs
Markets are a must-see because they combine tourist attractions, street food, and bargaining heaven.

The Sunday Walking Street Market is a brilliant place to start your market trip. Set in the center of the historical district of Phuket Town, this is one of the island's most common attractions. As the name implies, this is a Sunday-only market that runs from 4 to 9 p.m.

It's lively, full of lights, bustling, and loud — the ideal way to end the week, surrounded by gorgeous ancient buildings, stalls offering arts and crafts, and plenty of wonderful mouth-watering food.

The well-designed indoor Banzaan Fresh Market, located on Sai Kor Road, is a good spot to learn about exotic fruits, pick up veggies or fruits, or have a drink of energizing sugarcane juice. On your stroll to the large food court upstairs, don't forget to stop by the gift and accessory kiosks.

The Phuket Weekend Night Market is where to go when you're looking for more traditional goods, curios, or cheap T-shirts. The market, located just outside of the Town, is a good place to look for secondhand goods, grab random items, and try some unusual foods.

Do you want deep-fried insects or fishcakes? This is where you can get some.
Go out on Bangla Road for the Night
When the sun sets, the Bangla Road closes to traffic, and the road comes alive. The street is lined with bars, numerous outside, allowing you to wander from one to the next with ease.

There are always street entertainers begging for your money in exchange for a few minutes of entertainment, as well as touts attempting to entice you into their ping pong performances or tailor shops. As you stroll down the street, a cheerful feeling permeates the air; all of the beer girls and restaurant owners vie for your business, keeping prices cheap and the pleasure never-ending.
Phuket's Big Buddha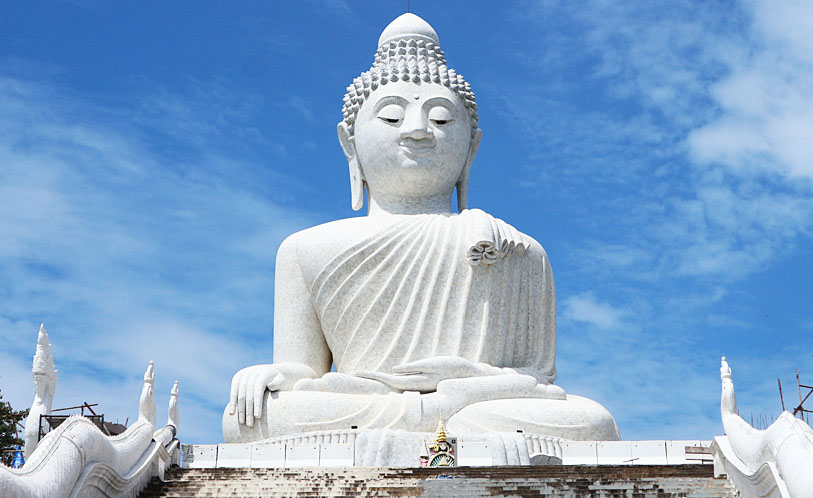 The Big Buddha is one of the island's newest and most visible sights. The massive concrete statue stands at the top of a large hill near Chalong, is 83.5 feet wide and 148 feet tall.

It is covered with white marble and can be seen from all around southern Phuket, including Karon Beach and Phuket Town, gleaming in the sun. This means that you can get fantastic 360-degree views of the entire area from all the way up here.

The sunset views are breathtaking, though it can get busy at that time of year. Big Buddha Phuket's construction began in 2004 and was primarily sponsored through donations, with several aspects of the attraction still awaiting completion.
Frequently Asked Questions:
Is Phuket safe?
Phuket, Thailand, is a safe place for solitary visitors. Anyone traveling alone, according to locals, should: Keep a close check on your beverage: Although it is a famous drinking destination, alcohol should be consumed with caution.

It is a relatively safe destination for female travelers, as they are unlikely to be harassed because of their attire, and there are few cases of violent street crime. Drink spiking and frauds are the two top criminal hazards to female tourists in Phuket.
What should I avoid in Phuket?
Do not offend the Royal Family.
In a temple, don't wear your shoes.
Don't go to a temple wearing shorts.
Don't bring Buddha images out of the nation with you.
Do not come close to a monk.
What is Phuket known for?
Phuket is Thailand's largest and possibly most well-known island. The appeal includes blue seawaters, sandy seashores, spicy Thai dishes, and good swimming and diving.
Is it expensive?
Visitors will find Phuket the most expensive section of Thailand, especially if they opt to stay in a resort near the beach.

There are reasonably priced options available, particularly for those willing to travel inland, but luxurious resorts in Phuket are prohibitively pricey compared to other Southeast Asian destinations.

However, because practically everything else is so cheap, your trip can still be quite inexpensive
Is Phuket travel safe for a honeymoon?
Yes, without a doubt. Because of its numerous spectacular shores, relaxed atmosphere, and wonderful stay experience, Phuket is an exceptional honeymoon location. It offers a diverse range of attractions for couples to visit. Another compelling argument is the city's legendary nightlife.
Is the tap water safe to drink?
Tap H2O is unfit to drink.
Although purchasing drinking water may be inconvenient, it is simple and inexpensive to obtain cool, fresh, and clean drinking water here. You can find a variety of brands in convenient stores at a very reasonable price, whether it is bubbling, still, or mineral water.
Is it safe to eat street food in Phuket?
Many visitors inquire about the street food; most of them are concerned that it is unsafe to consume. However, it is safe to eat, but you must use caution. Phuket is also the best place in the country to find a variety of street foods that you must try.
Is it safe to walk at night in Phuket?
Yes, Thailand is a secure country, but resort areas, like any other large city everywhere globally, attract dangerous individuals. Tuk-tuks and motorcycle taxis victimize single ladies on these roads late at night and early in the morning. It is strongly advised that you should not go alone at night.
As a freelancer, I use my skills on the computer and internet to research, assess and familiarize myself with various exciting services and products. I rely on my research skills and experience to analyze these products and services, read their reviews and testimonials of customers to help my audience learn more about them. With such knowledge, it is easy for my audience to make the right choice when making a purchase. I am trying to find answers to people's problems by researching online and sharing my knowledge on the internet. I also write about my lifestyle and share it with my audience.