Infrared Sauna blanket offers a lot of health benefits. If you have been in a sauna before, you know how relaxing and rejuvenating and immersing in the heat feels. It is the same refreshing feeling that people experience in hot yoga. Most probably, you have wished you would be able to recreate the same experience at home.
Fortunately, it's now possible to bring the experience feel at home with an infrared sauna blanket. Investing in the best infrared sauna blanket is a compact and convenient way of bringing the amazing benefits of infrared heat therapy to your home.
Heat Healer Infrared Sauna Blanket
The Heat Healer Sauna Blanket makes your sauna dreams come true with its easily portable and lay-down sauna design. I reviewed other similar products on the market and concluded that this is the best infrared sauna blanket, in my opinion. The blanket offers all benefits of a traditional infrared sauna and does it at a reduced cost, convenient and hygienic, in the comfort of your home.
The heat healer blanket is claimed to be the best of science and nature. It is a science-banked infrared heat therapy product that enables you to rejuvenate, relax and refresh your body in only sixty minutes. Heat Healer has been specially designed with carbon nano-fiber heating elements from Japan consisting of twelve thousand individual carbon fiber strands. These strands are all woven well together to generate high-quality infrared heat for maximum functionality.
The brand claims that its blanket is made from the highest quality materials. It consists of multiple layers, including two layers of tourmaline stones and flat jade, non-toxic PVC, and a premium infrared heating element to give you a revitalizing sauna experience. Inside the blanket is also a thick insulating cotton material that gives you extra comfort as well as doubles as a protective layer surrounding the carbon fiber heating element. It is easy to store, super portable, and best for destressing.
Features of Heat Healer Infrared Sauna Suit
The features of this infrared sauna blanket include;
Maximum Infrared Emissivity
The Heat Healer sauna blanket uses a carbon fiber heating element combined with tourmaline and 96 jade stones to generate the highest quality infrared heat with maximum heat emissivity. The flat stones are highly effective in absorbing and evenly distributing heat across the sauna blanket. This allows the infrared heat to radiate across each part of your body, giving you the best heat therapy experience possible.
EMF Blocking technology
Electromagnetic fields are artificial fields, and it is recommended that people limit their exposure in their daily lives. Natural is always the best. That is why the Heat Healer manufacturers designed the blanket with an EMF blocking technology. The blanket is not only 'low' EMF; the EMF reads ZERO across the entire blanket, giving it the most natural heat experience.
Certified non-toxic materials
Unlike other sauna blankets that use interior PU leather materials, the Heat Healer infrared heated blanket has been made with premium amide fabric tested independently against more than 100 common toxic substances.
Heat Healer uses amide fabric, a premium material that is heat resistant, durable, and non-toxic. This is the same type of material used for firefighters and military uniforms, and astronaut spacesuits. It is the perfect material for the infrared sauna blanket.
Highest-quality infrared heat
This infrared sauna suit uses a specially-made Japanese carbon nano-fiber heating element. This heating element consists of twelve thousand individual carbon fiber strands carefully woven together to generate the highest quality infrared heat with maximum emissivity.
Additional pure cotton body wrap
The Heat Healer Sauna Blanket also comes with a specially made head-to-toe cotton body wrap to absorb your sweat. The body wrap has been manufactured with a loosely woven thread count for maximum moisture absorption. This will help keep you comfortable throughout the sauna session.
Easy to carry and store away
If you are a travel and sauna enthusiast, you won't need to look for a sauna location in your adventures; the Heat Healer is lightweight, and easily foldable for portability anywhere you want to go. It is also easy to clean and store away after use by wiping down the waterproof material.
Heat Healer Sauna Blanket Sizes
Regardless of your body size, the Heat Healer sauna blanket has been designed to fit an individual up to 6'6" tall comfortably and 300 pounds. The blanket has a circumference of 68 inches and is 75 inches long when in use. The Heat Healer package box has a dimension of 20 by 20 by 11 inches and a total weight of 24 pounds. It has been put in a convenient travel bag for portability.
How Does It Work
This Heat Healer is a one size fits all size that fits all body types contributing to a more relaxed experience for each user. The blanket uses infrared technology to generate heat within your body. It emits heat therapy infrared light that your body absorbs as radiant heat.
The blanket's fabric material is durable, lightweight, and heat resistant. It features a bed of Tourmaline and 96 Jade natural healing stones that helps in conducting and dispersing infrared heat. The Faraday Shielding also helps block out the electromagnetic fields (EMF), providing you with a natural heat therapy experience. The heating zones have been distributed entirely, allowing for a more targeted and convenient heat application.
You will feel relaxed for the first 15 minutes as the body warms up and gets into a meditative rest. After 30 minutes, your body starts to sweat and burn calories, similar to exercising. In 45 minutes, you will start feeling euphoric and deeply relaxed as the body releases the feel-good hormones. After an hour, your body will get into a hormesis state for increased generation of Heat Shock proteins, beneficial for your overall health. It heats your body inside out, providing lots of health benefits.
Returns & Warranty
The Heat Healer infrared sauna suit comes with a warranty of two years. This is a guarantee of its highest quality and durable materials. Before your order has been shipped, you can cancel your order for a full refund before it is dispatched from the warehouse. More so, unopened blankets can be readily returned within 30 days after delivery. According to HeatHealers's official website, a 39$ return shipping fee will be deducted from the refund fee to take care of return shipping.
Benefits of Infrared Blankets
Heat therapy has been used for thousands of years for its potential benefits. Some of the sauna blanket benefits you will enjoy when using the Heat Healer infrared sauna blanket include;
Better sleep
One of the main benefits of using this sauna blanket is to sleep better. Heat therapy triggers your body to go into a meditative rest which helps reduce stress, anxiety, and depression. This, in turn, improves your overall mental health for a relaxed sleep and more energized effect.
Enhanced cardiovascular health
Using this sauna blanket regularly can help improve the overall health of your heart, lower blood pressure. As the temperature of your body rises, your heart rate increases, improving blood circulation. The blanket acts as a form of workout for your body because it reacts as if you are working out. This boosts your cardiac output and gives the heart a workout. But this does not mean the blanket is a replacement for an actual workout.
Boosted immune system
Using an infrared sauna blanket increases your body temperature temporarily, which is beneficial in boosting your immunity. The high internal heat triggers the overproduction of white blood cells. These cells play a significant role in fighting off infections. White blood cells are manufactured in the bone marrow, and when the internal body temperature increases, the production of the cells increases as well.
Mental relaxation
High-stress levels can be harmful to your nervous system and even lead to a range of chronic diseases. Heat Healer infrared sauna blanket can help reduce your stress levels by increasing your blood circulation and triggering the release of endorphins, a hormone that destresses and relaxes your body.
Enhanced skin condition
As you probably know, warm heat, Infrared light, and sweating do wonders for the skin. When combined with a balanced diet, regular use of this sauna blanket will give you a youthful, healthy glow on your skin.
Natural pain relief
The Heat Healer blanket offers you a natural pain relief experience targeting joint, muscle, and neuropathic pain. Heat therapy saunas have been proven to ease painful conditions such as Sciatica, Arthritis, and Endometriosis. Increased blood flow also helps in speeding up recovery, which helps in pain relief.
Weight loss
The increased sweating can help you lose excess water weight, which can help in reducing puffiness or bloating on the face. However, you will need to combine the regular use of the blanket with healthy eating and exercise to support your weight loss.
Heat Healer Company Information
Heat Healer company was established in 2019 and is based in Bondo Beach, Australia. In the few years that the company has been in operation, they have expanded across the UK, Canada, and the USA for their high-quality products. While the head office is located at Bondi Beach, Australia, the company offers fast and free delivery in all the markets with one warehouse located in California, USA.
The company has a passion for quality craftsmanship, the highest quality, and healthy living. They designed the Heat Healer sauna blanket with the highest quality materials available around the world. These include the specially designed nano-fiber carbon heating element and the Tourmaline and Jade stones used on the sauna blanket. They also use fabrics that are SGS certified and non-toxic RoHS.
How to use Heat Healer Sauna Bag
To use this infrared sauna blanket, here are the few steps you can follow;
Find a comfortable place to lay the blanket down. A bed is perfect or anywhere else with a heat-resistant surface.
Plugin the Heat Healer and turn on the power. Then choose the temperature you want the sauna blanket to be set to.
Start by laying down a towel in the Heat Healer blanket. Next, lay the provided cotton body wrap on top of the towel. This will help to absorb any sweat and keep you comfortable throughout the session. You can consider switching on an entertainment source such as music or television to keep you entertained during the session.
Lay into the cotton body wrap and then close the Heat Healer Infrared blanket over your body. Enjoy your infrared sauna experience for about 30 to 60 minutes, depending on your preference.
For safety purposes, the Heat Healer has an auto shut-off feature if you fall asleep with the relaxing feeling during the session.
After the session, get out of the sauna blanket and plug it off. Take a cool shower as the Heat Healer cools down back to room temperature.
It is easy to clean the blanket and store it away because all the materials are waterproof. Simply wipe it down with a wet wipe and fold it up for storage in your wardrobe or under the bed.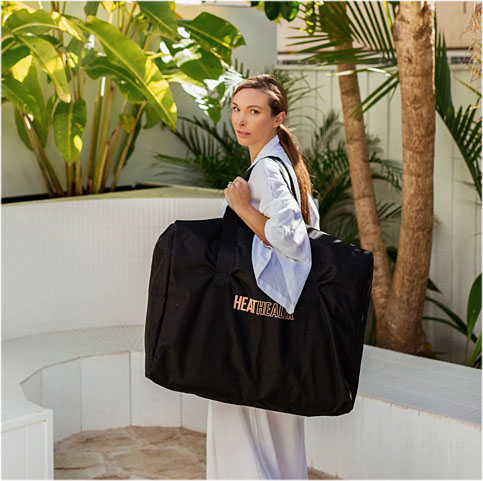 Precautions When Using the Heat Healer Infrared Heated Blanket
Finally, while the heat healer infrared sauna blanket is a high-quality product and provides lots of benefits, there are a few precautions you should know before you give it a try. The main precaution for all infrared sauna blankets is not to use them if you are pregnant. The heat from the blanket might be risky for your unborn child so avoid using infrared blankets if you are pregnant.
If you also have serious health conditions such as hypertension, hyperthyroidism, heart disease, etc., and are considering using the Heat Healer sauna blanket, it is advisable to consult with a healthcare provider to ensure it is safe.
If you are considering using this infrared sauna blanket to lose weight, you should not use the blanket in the highest heat setting. The optimum temperature to burn calories is 130 degrees Fahrenheit. Setting the temperature higher will see you sweat more than burn more fat which is not the intention. You will also need to incorporate a healthy diet and work out to lose weight effectively.
But regardless of your reason to use the Heat Healer sauna wrap, it offers lots of amazing health benefits and is an incredible addition to your healthy lifestyle.
Bottom Line
Overall, this is the best infrared sauna blanket for anyone who wants to enjoy a sauna experience at home. This Heat Healer infrared heated blanket offers unrivaled luxury, and a set of premium product features not found anywhere else to deliver the world's best portable sauna experience. The product comes with a 2-year warranty as a guarantee of its high quality.
Infrared Blankets FAQs
Do sauna blankets work?
Absolutely yes! The blanket will give you a good sweat session. It will take a bit longer to break the sweat than a regular sauna. But you just need to wait for the first 15 minutes for your body to warm up, and you will enjoy a great sweat session.
Can I lose weight using an infrared sauna blanket?
While there is not yet clear evidence on the long-term weight loss effect through a sauna blanket, many users claim it helps in weight loss. However, this is possible if you combine sauna blanket use with regular workouts and healthy dieting.
How do I clean sauna bags?
After use, leave the blanket to cool down and wipe it with a wet wipe or cloth. The best recommendable option is using a homemade vinegar solution or an antibacterial wipe.
Are infrared sauna blankets safe?
Yes! These blankets are completely safe for use. They only produce safe infrared rays and not the entire spectrum. It is the infrared rays that heat your internal body making you sweat. To avoid dehydration, you should drink a lot of water before and after the session.
You should listen to your body and how you are feeling to make your own judgment. While any adult can use infrared sauna blankets, there are various precautions to limit or avoid using the sauna blankets. Like other types of sauna, you should not use the sauna blanket when pregnant as it is a risk.
More so, you should avoid using sauna blankets under the influence of drugs or alcohol. Such substances in your system affect the ability of blood vessels to expand in a way that can't accommodate increased blood flow. Also, you should avoid using a sauna blanket if you have a high fever or are dehydrated.
How many calories does a sauna blanket burn?
A sauna blanket can help in losing weight when combined with exercises and healthy dieting. The infrared saunas penetrate your skin more deeply and have a more substantial impact on your metabolic rate.
This means that a single half-hour session on a sauna blanket might help you burn off about 200 to 600 calories. However, if you want to attain significant weight loss, you should combine your sauna sessions with exercises and a healthy diet.
Is the blanket easy to clean and travel with?
You can easily clean the blanket by wiping it down with wipes after use. For travel, you can easily roll up or fold the blanket and suit it in a suitcase. It is also lightweight for easy portability.
As a freelancer, I use my skills on the computer and internet to research, assess and familiarize myself with various exciting services and products. I rely on my research skills and experience to analyze these products and services, read their reviews and testimonials of customers to help my audience learn more about them. With such knowledge, it is easy for my audience to make the right choice when making a purchase. I am trying to find answers to people's problems by researching online and sharing my knowledge on the internet. I also write about my lifestyle and share it with my audience.